Our company was established in 1995. We are a stable company that has earned the trust of its customers. We produce ecological biofuel: firewood, sawdust briquettes, wood pellets, which is an important part of our households, and contributes to our comfort. All of our products are made of 100% natural wood. An ideal fuel for your home. We are a FSC®, Enplus A1 certified company.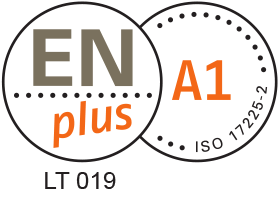 We sell our products in Lithuania, as well as export them to Germany, United Kingdom, the Netherlands, and other countries. Our customers in Lithuania and abroad are satisfied with the quality and price of our products that is why we have many reliable partners.
Exports make about 90 percent of our production. It is particularly important for our customers to be able to find the best solutions in the field of transportation, therefore we offer the lowest prices and reliable, safe carriers who have been our partners for many years now.
The local market is also important to us, therefore our aim is to provide it with top quality goods at good prices. We also deliver our products to surrounding districts according to the individual request of the customer.